Document Type : Review Paper
Author
Human Genetics Research Center, Baqiyatallah University of Medical Sciences, Tehran, Iran
Abstract
The COVID-19 pandemic has caused many of us to stay constantly hospitalized and isolated. In addition, this has severe long-term mental health impacts such as depression, post-traumatic stress, anxiety, rage, anger, and opioid addiction. Consequently, it leads to the growth of Sedentary Death Syndrome and impairs the cognitive ability of individuals. Even so, it was shown to be necessary to support an individual's condition and general wellbeing when a person leads a physically active lifestyle or is involved in regular home exercise. Regular strength exercise in the home, provides a variety of effects Which has a direct positive effect on a person's mental health. as the WHO has recently mandated, the accumulation of at least sixty minutes of moderate-to-intensity physical activity every day for children aged 6 to 17, as well as on two days per week for adults in order to increase bone and muscular strength, there is a very strong correlation between getting enough exercise and becoming healthy.
Graphical Abstract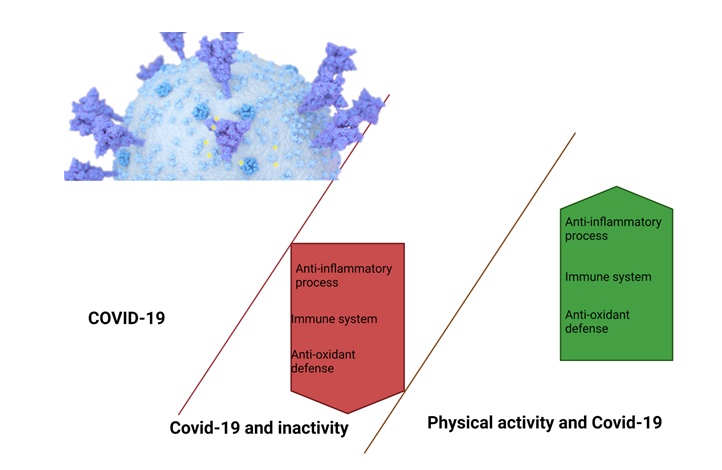 Highlights
Mild exercise has a positive effect on the morbidity and mortality of administering influenza and herpes simplex virus (HSV-1) in the respiratory tract.
Reduced physical exercise reduces insulin sensitivity, which tends to be linked to a slowed immune response and a blunting of macrophage activation.
The American Sports Medicine Association (ACSM) notes that ensuring public health needs at least 150 minutes of moderate-intensity aerobic activity a week.
Vitamin D is commonly recommended as a critical nutrient that enters the body through ultraviolet rays from the sun or certain foods such as fish and rice, egg yolks, and dried mushrooms.
Appropriate zinc, selenium, and vitamin D has been suggested to be essential for immunity to other viral infections, immune function, and reduced inflammation.
Keywords
Main Subjects